7 Best Balcony Design Ideas To Decorate Your Home Balcony
Do 
you know why balconies are such coveted structures in every home?
Everyone craves a home with a beautiful outdoor space that offers an exquisite view. They want a place where they can unwind after a tough day, watch the sunset, perhaps with a glass of wine. This space can double as a private restaurant for date night with a small table, some string lights, and a beautiful backdrop. It can serve serenity when you stand with your coffee mug, early in the morning, watching the sun rising on the horizon.
Whether you live in a bustling city like New York or a suburban town, a balcony is an addition that offers more than just an outdoor space. If you live in an independent house, then you must have a patio or back porch where you like to sit and reflect upon your day. But isn't it even more satisfying when you do so, perched on a higher floor, with a view of the outdoors?
If, on the other hand, you live in a building, then an apartment balcony is a god-send gift where you can connect with the outside world without having to leave the confines of your home. You may reside anywhere in the state of New York or nestle in the heart of Manhattan, the view is always exquisite.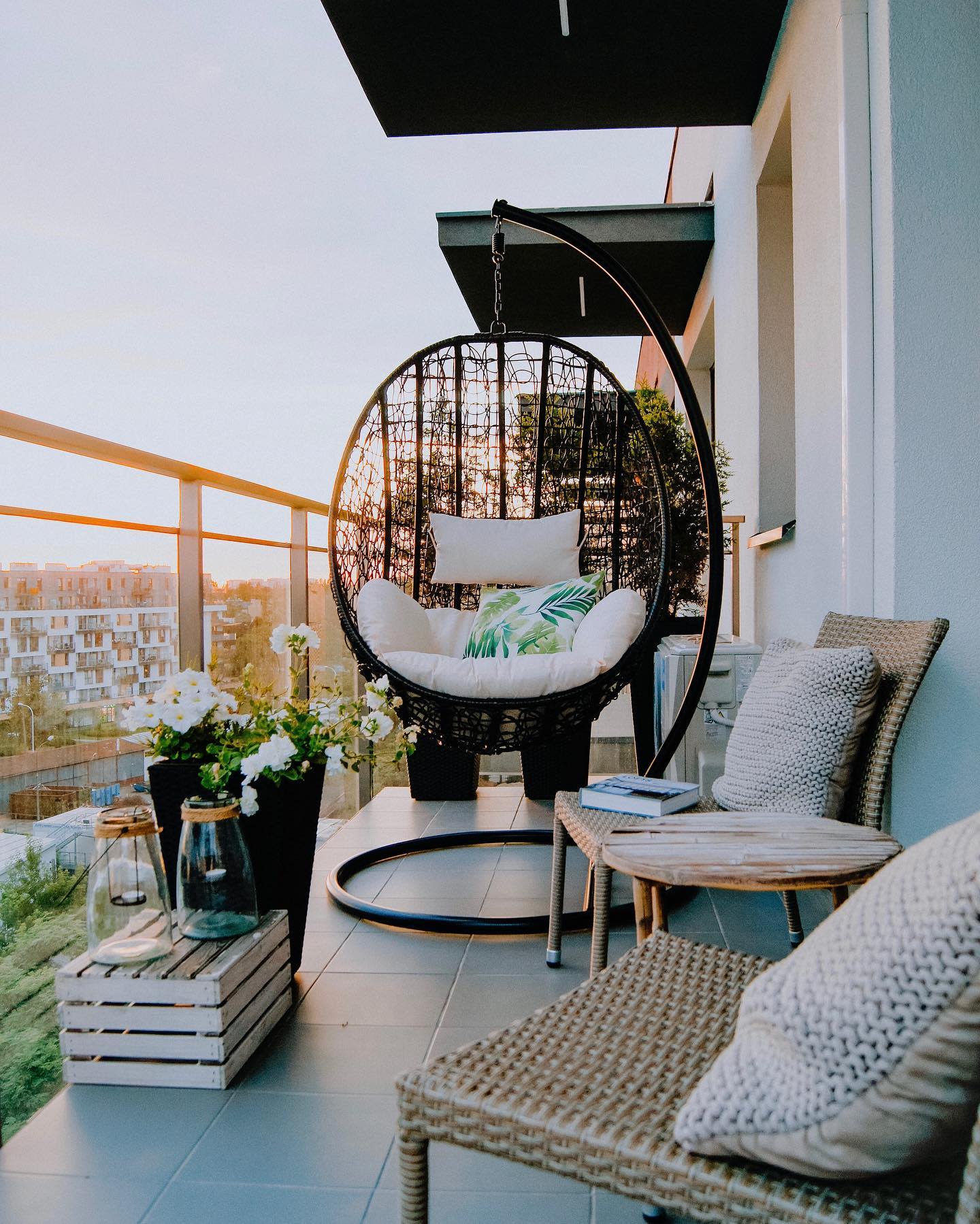 Image Credit: trendey.com
Hence, today we are going to discuss some balcony design ideas to brighten up the outdoor space.
7 Best Balcony Design Ideas To Add Vigor and Character:
People are mostly focused on curating home decor for their home office or installing daybeds in their living room, and considering the indoor floor space for their interior design. They neglect this beautiful outdoor living space that actually serves more purpose in entertaining and finding personal tranquility.
Therefore, whether you have a small balcony or a big one, it deserves just as much attention as the rest of your home design.
1. Build a small garden for air circulation and your love for horticulture
Who says you cannot have a garden just because you live on a higher floor?
Balcony gardens are all the rage right now. You can choose to install a few flower pots, maybe some succulents and creepers. There are even exquisite options available to instill artificial grass that you can walk on for the garden feel.
You can have a beautiful balcony that caters to your needs for horticulture. Install a few vegetating plants or fruits such as tomatoes, lemon trees, etc. You can also create an exclusive herb garden fifty floors above ground or grow beautiful flowering plants such as roses, hibiscus, and whatnot. You can also choose a vertical garden that adds a certain appeal to your outdoor living space.
The best thing about a balcony garden, aside from the aesthetic value, is the constantly purifying air. These plants take in carbon dioxide and expel oxygen. Therefore, you can always expect to breathe in the fresh air with minimum pollutants. In a bustling city like New York, Brooklyn, Washington, Chicago, etc. these controlled means of purifying the air are a welcome addition to any household.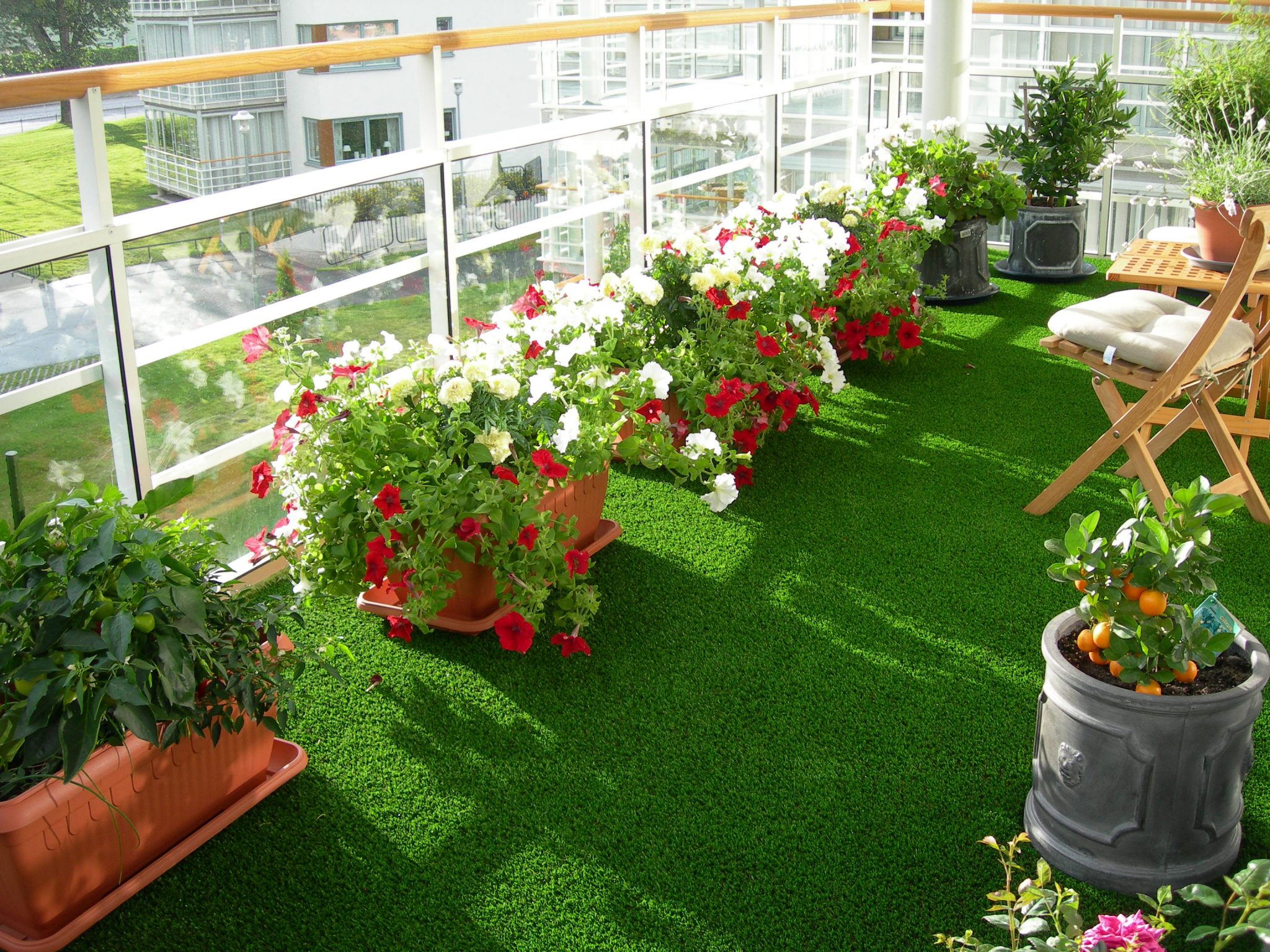 Image Credit: advaithaventures.com
2. Install some glass or mesh for pest control with an exquisite view
If you are concerned about pest control in your balcony garden, you can always opt for a glass casing. This not only keeps out the harmful pests but also adds a futuristic feel to your outdoor space. Your balcony looks like a greenhouse of sorts while providing an exquisite view of the Manhattan skyline.
If you choose to keep the balcony space clear of plants and pests, however, you can always choose mesh or net to cover the entire space. The balcony looks almost like the Eiffel Tower when you peek through to the gorgeous view of the city.
A covered balcony is a great idea to keep out the pollution as well. If you are so inclined, you can install glass windows instead of an enclosed structure. This way, you are free to welcome fresh air into your house while still keeping out the pests and insects.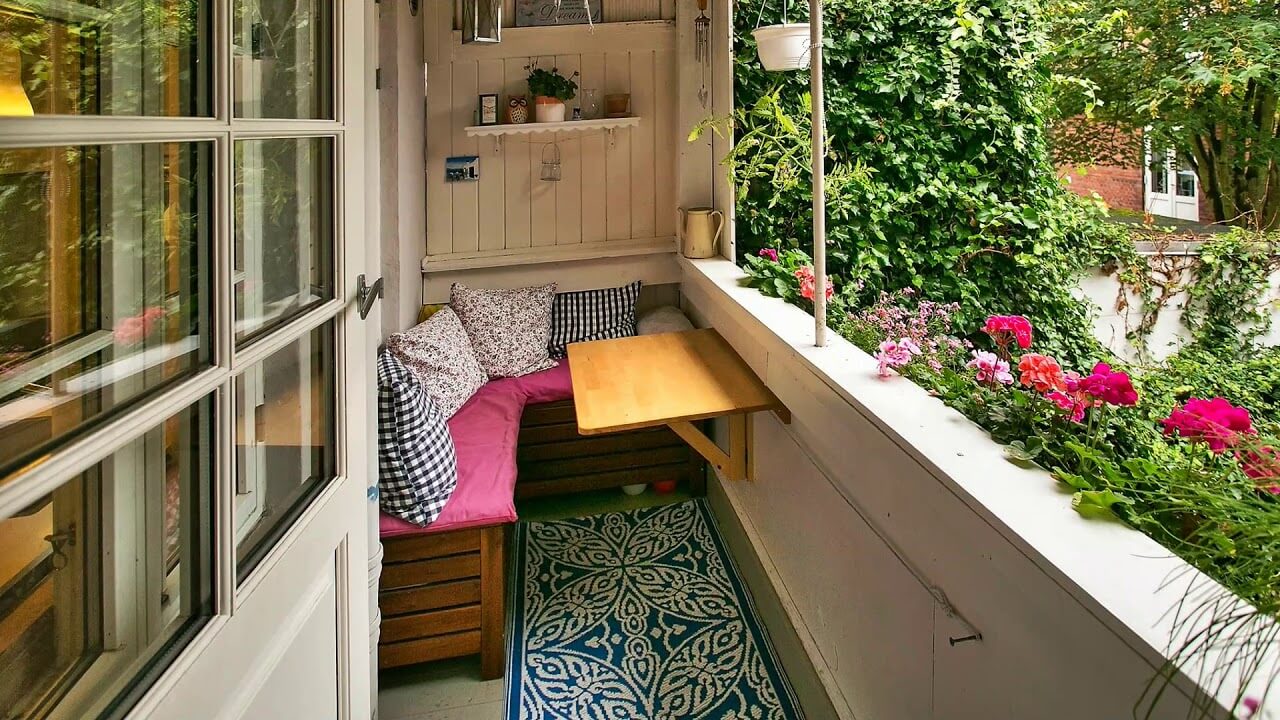 Image Credit: Pinterest.com
3. Knock that concrete balcony wall to facilitate railings
Some apartment buildings come with safe concrete walls, however high or low, on the balcony. You can easily break them down and install stainless steel or wrought iron railings instead.
If you wish to install some creepers or decorating ideas to brighten up your balcony space, these railings can serve as holders. Intertwine the creepers along the railings and watch them grow out, creating a cascading view of greenery and serenity. The railings can also hold several hanging home design ideas such as string lights, tapestry, etc.
If you can install tall balcony railings then they can also serve as an incredible stronghold to hang a hammock. You can couple that with a beautiful decking to tie the whole living space together.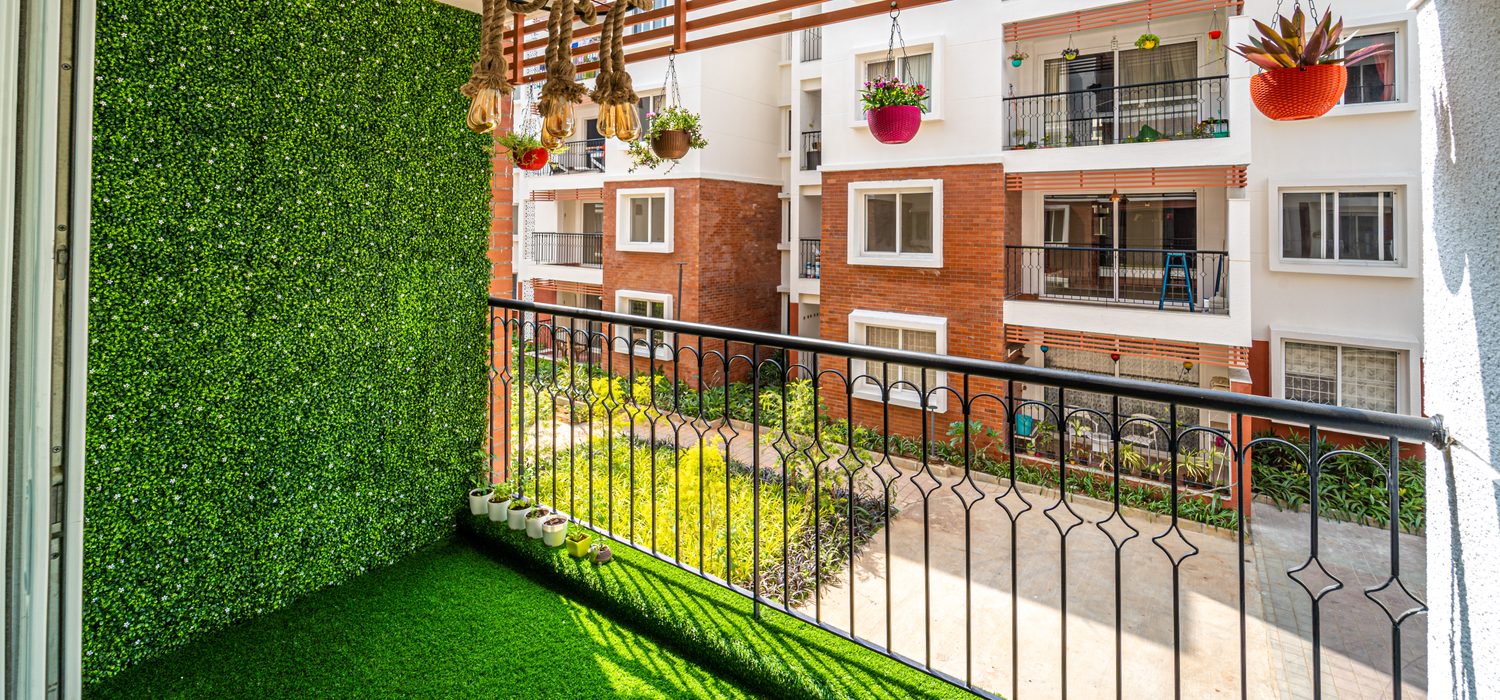 Image Credit: mycloudforest.com
4. Invest in comfortable and innovative outdoor furniture
Speaking of hammocks, the balcony provides an excellent space for outdoor lounging. Why not add a few intensely innovative pieces of outdoor furniture to create a space where you can chill and unwind after a long day?
You can install wood decking lined with outdoor rugs. Place a coffee table with a love seat. Decorate with some throw pillows and voila! You have an outdoor seating area where you can enjoy your morning coffee or sit with your feet up after a strenuous day at the office.
You can also opt for a small table and floor seating with cushions or use your DIY skills to build single seats using wood pallets or rattan. Although minimalist, these simple personal touches can inordinately brighten up the outdoor living area. These can also befit any small balcony design ideas as you need to get creative with your limited space.
It is not unheard of to install a daybed on your balcony for a more relaxing setup. Stroll down to Ikea and browse through for some impressive design ideas. Not all outdoor furniture needs to be designed only for the outdoor. Inspiration strikes at the most unexpected moments. You might find some furniture or pieces of home décor that work well for both indoor and outdoor interior design.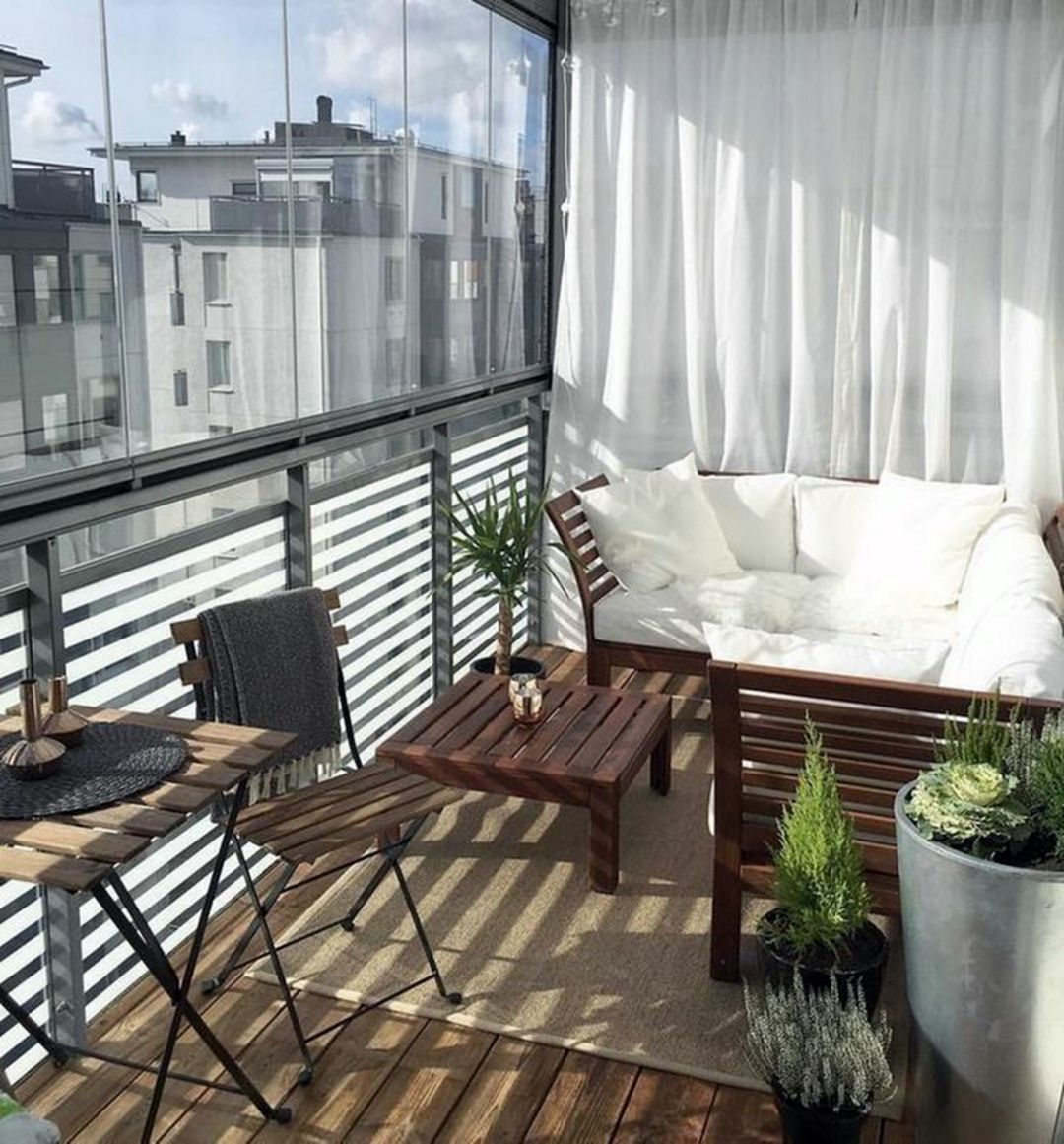 Image Credit: pinterest.com
5. Don't forget about the lighting
Another very important aspect of balcony design is the lighting. Much like the indoor living space, your balcony must be sufficiently illuminated while creating a beautiful setting for your tranquility.
If you have a covered balcony space then you can easily hang a few pendant lights or string lights. They appear to be trickling down from the ceiling which creates the effect of being in an enchanted forest.
Of course, decorative sconces with innovative designs or some DIY lamps can also work wonders to add vigor to your outdoor living. We suggest subtle yellow lights as they help brighten up the balcony space adequately while creating beautiful effects around your balcony décor.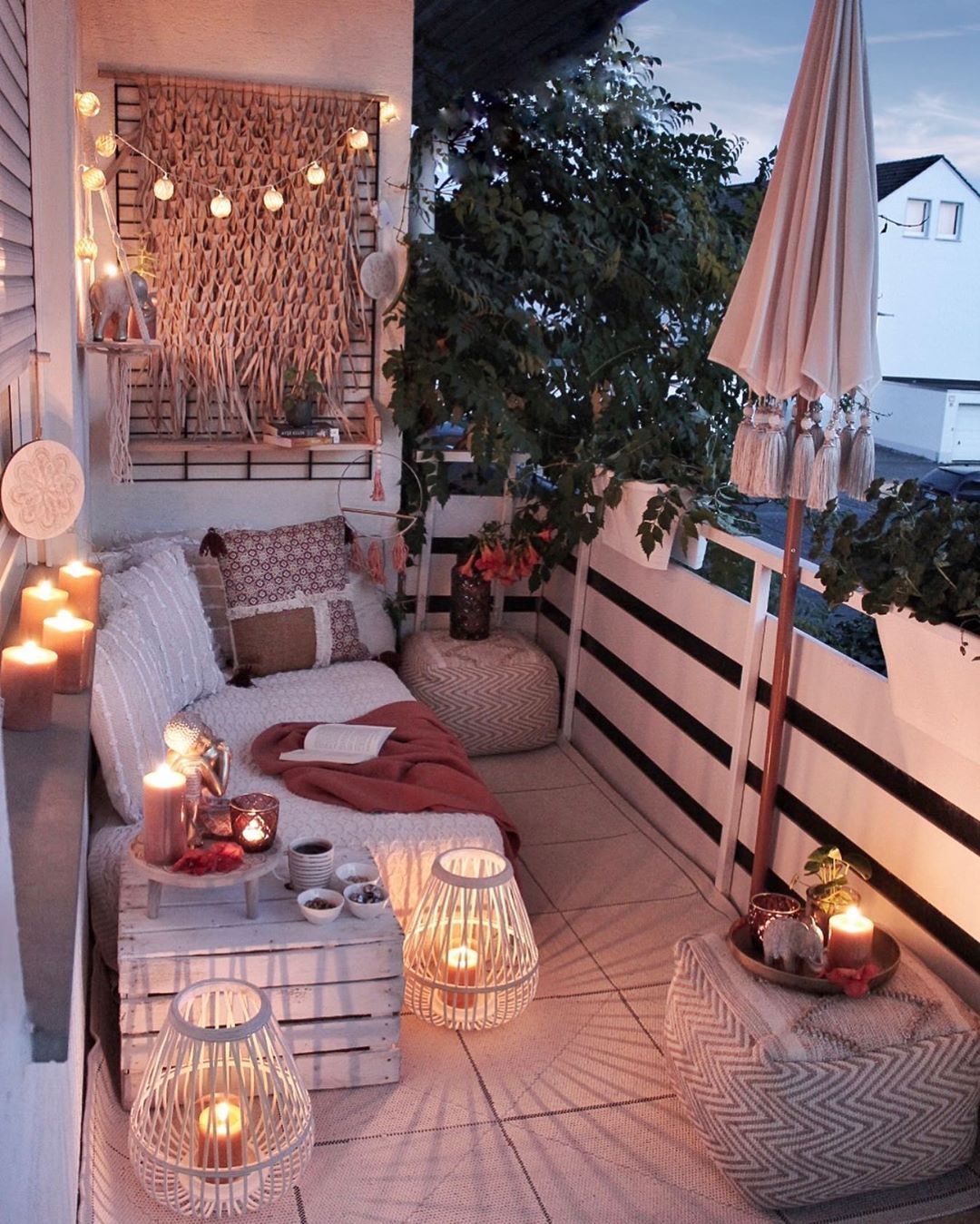 Read also – countryliving.com
6. Create your very own barbecue central
Remember Chandler barbecuing on Monica's balcony?
New York City may not have sufficient space outdoors to install a grill and barbecue but that doesn't mean you can't cherish those luxuries.
Use the outdoor balcony space to install a small grill for barbecue Sundays and enjoy the thrill of cooking outdoors. You do not have to fill your home with paraphernalia that chokes you. Instead, move your grilling needs to the balcony, flip your burger patties, sear the delectable beef or chicken, cook bacon, what have you.
An outdoor grilling space in the balcony provides the perfect space to enjoy exquisite meals without the hazards of fumes.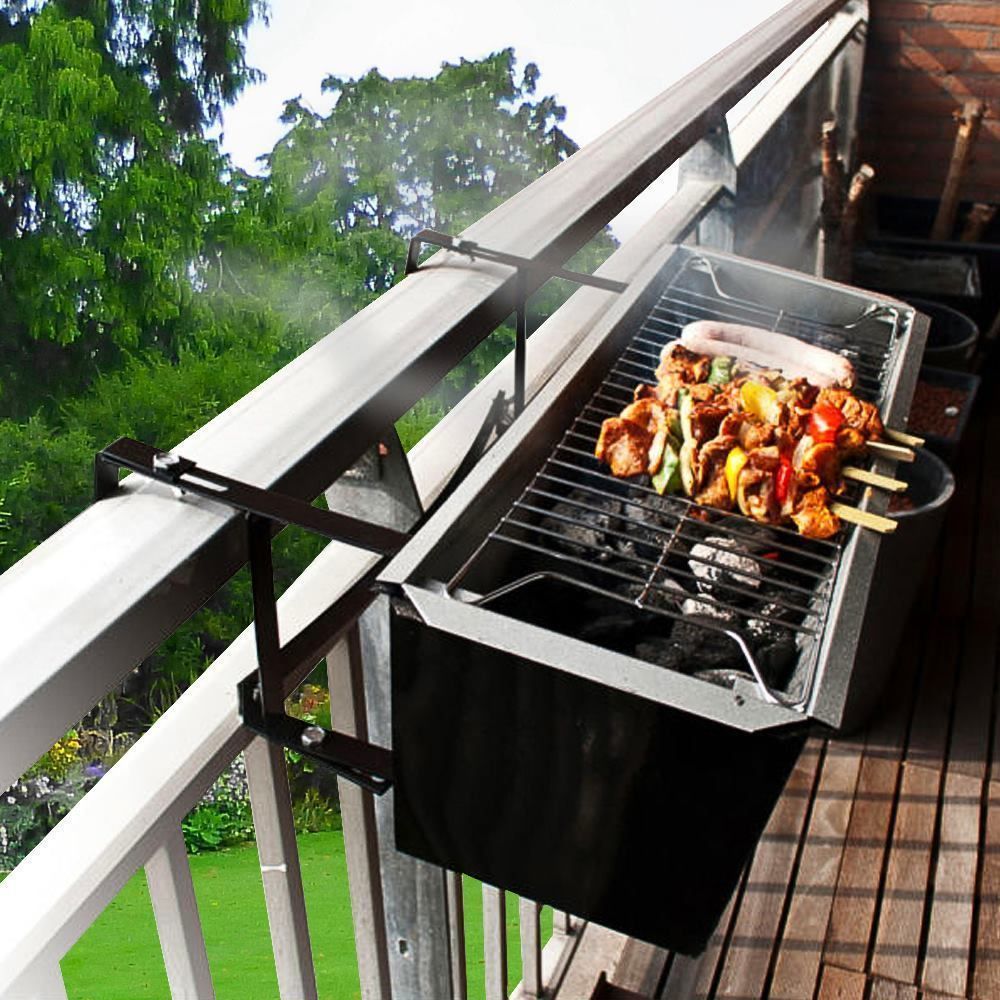 Image Credit: pinterest.com
7. Focus on the outdoor decor ideas for aesthetics
If you have a small balcony or a taste for minimalist design ideas, you can focus your attention more on the aesthetic value of your balcony space. Hang a few wind chimes, hanging pots, ceiling lights, even hanging picture frames if you like. The small balcony design ideas are unending.
If on the other hand, you have sufficient space on your balcony, then you can opt for beautiful outdoor decor ideas. Hang the painting you created or some DIY designs. Decorate with outdoor rugs and some expertly placed artificial vases. Put down some throw pillows on a daybed or a few cushions along the sides of the decking.
These simple decorating ideas can serve extreme purposes while adding character to your beautiful balcony. They add aesthetic value to the outdoor space and create quite a fascinating area for reading or lounging on a slow day.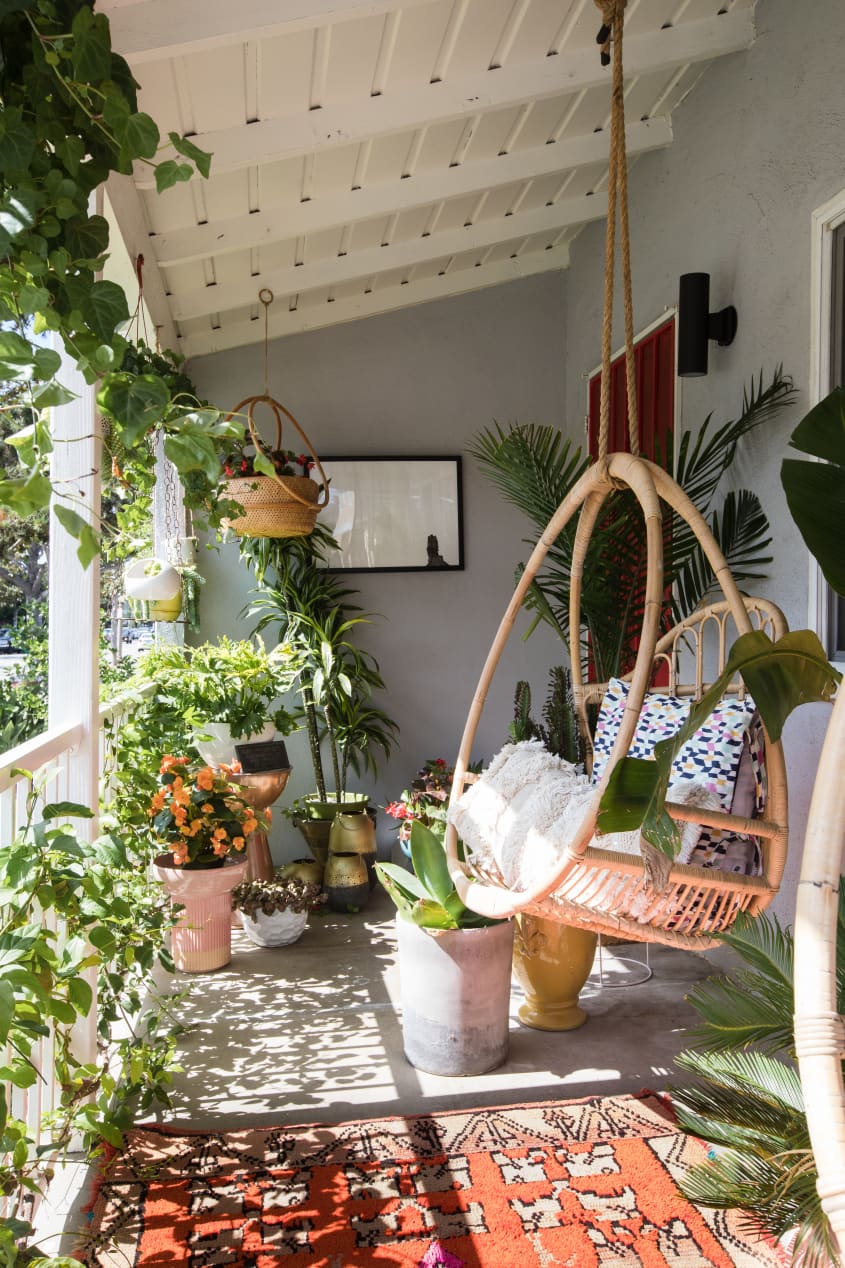 Image Credit: apartmenttherapy.info
Thank you Foyr for the article. 
---